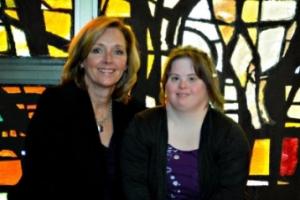 Rejoicing Spirits was founded on the belief that all people should have the opportunity to explore faith and spirituality.

Unfortunately people with intellectual and developmental disabilities are often overlooked when it comes to inclusion and leadership in our faith communities. Most churches have done significant work in adapting buildings to accommodate physical needs, but unseen barriers often prevent people with disabilities from becoming active members in a faith community that they choose.

This innovative ministry works with congregations to provide a meaningful, inclusive worship service in a loving and supportive community for people with intellectual disabilities and the people who love and support them. People are free to be themselves while actively participating as contributing members in an inclusive faith community.
Shush-Free Worship
A Rejoicing Spirits worship service includes lots of music and joyous singing, along with brief, meaningful messages. Worshippers are invited to come as they are: people are encouraged to be themselves without fear of being "shushed." There are lots of opportunities for worshippers to serve, lead, learn and participate.
The Rejoicing Spirits worship service can meet people's needs in various ways:
Serves as a stepping stone for those wanting to take the first step into a faith community.
Offers complementary worship and fellowship opportunities for those who already belong to a faith community.
Provides an inclusive faith community that may fully meet their current needs and desires.
Find a Rejoicing Spirits Worship Service near you.
Prospective Congregations
Rejoicing Spirits congregations share the goal of ensuring that all people, especially people with disabilities, are able to explore and express their faith in an inclusive worship community of their choice. Supported by the national support office of Mosaic, a faith-based nonprofit dedicated to providing "a life of possibilities for people with intellectual disabilities," Rejoicing Spirits provides resources, support and coaching to help congregations to include people with disabilities as active and valued participants using the Rejoicing Spirits model.