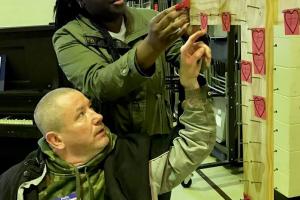 Thursday, February 23, 2017
By Glen Stewart
Rejoicing Spirits Host Site Leader
As we enter our fifth year of hosting Rejoicing Spirits worship services at St. John Lutheran Church in Ocean City, New Jersey, it's heartwarming to reflect on the joy and love that have been shared among our faith family. Five years of sharing our faith and message of salvation. Five years of truly remarkable worship services. Five years of joyous singing and dancing. Five years of big smiles and even bigger hugs. Five years of Rejoicing Spirits!
But, it hasn't always been smooth sailing for us. In fact, our Rejoicing Spirits ministry got off to a bit of a rocky start. Our church is located a few blocks from the beach and boardwalk in Ocean City. As you might imagine, in our seaside resort we experience many of God's gifts firsthand: beautiful sunrises over the ocean, and cool sea breezes on hot August days. But living right on the Atlantic Ocean can mean some rough weather, too. None was rougher than Hurricane Sandy, which wreaked real destruction on the Jersey coast in October of 2012, literally weeks before our very first Rejoicing Spirits service, scheduled for November of that year.
We had spent the previous two years planning, visiting churches, and preparing to start this new ministry that reaches out to people with intellectual and developmental disabilities and encourages them to become part of a welcoming faith community. In the aftermath of the storm, our Rejoicing Spirits Team had to make a decision whether to go ahead with our first service even though we were surrounded by destruction. Fortunately, and perhaps with a bit of divine intervention, our church had been spared the full impact of the storm. We knew how fortunate we had been and how our whole community, especially those with disabilities, needed our help.
We decided to go ahead and hold the service, and we were very glad we did. That first service was well attended and well received, and in those months after the storm, our Rejoicing Spirits services provided an emotional outlet, a faithful comfort, as well as a helping hand, sometimes in surprising ways. I'll never forget the moment in our first service when a person with disabilities in Ocean City, Dan, stood up that Sunday afternoon and said a prayer for people without power and people who had lost their houses. Even though Dan had been displaced himself due to flood damage to his home, he bowed his head and asked for God's blessing for those
less fortunate.
I remember speaking with Dan after the service, when he explained that he wasn't praying for himself. He said his prayer had been meant for people whose homes had been washed away or torn apart by the hurricane. At least he still had a home, even if he couldn't live in it. At one of our later services, we were able to connect Dan and his family with those who could help them rebuild their lives. We introduced Dan to Meghan who was working as a counselor with NJ Hope and Healing, a state agency specifically created to help with Sandy survivors. After assisting him, Meghan wrote a wonderful email, about how she was moved by our service, and how her agency was able to help Dan.
After attending Rejoicing Spirits, words cannot articulate the tremendous uplifting imprint the celebration/service left with me —Leaving I felt ten times better compared to when I had walked in—In addition, I was fortunate enough to meet and speak with a young man named Dan. While talking with him I learned Sandy brought two feet of water into his home —Just recently the family was able to return home. All have adjusted well, having strong support systems to lean on during this journey. It was humbling speaking with Dan and his mother after all they have been through. They insisted they are the lucky and blessed ones. Their thoughts and prayers are with those enduring the brunt and residual effects of Hurricane Sandy.
Best,
Meghan
We were thankful for Meghan's heartfelt sentiment, and along with her, we were truly humbled by Dan's sense of unselfish caring. Regrettably, in the years since, we have lost contact with Dan, but not before we cheered him on as he carried the torch to open the state Special Olympics ceremony the year after Sandy, and was even inducted into the state Special Olympics Hall of Fame for swimming, skiing and speed skating that same year.
Now, five years later, we can look back on that stormy beginning, and wonder how we pulled it off back then and, sometimes, how we continue to carry on the ministry today. It is gratifying to realize that despite difficulties and barriers, we persevered and succeeded. At the same time, many of our brothers and sisters with disabilities persevere and succeed despite difficulties and barriers faced every single day. We can all find motivation in Dan's selfless story to inspire us to continue despite our struggles. His story reminds us that when we have the faith to turn our gaze outward, rather than inward, in our own small ways, we mirror that amazing, heavenly grace and do the Lord's work—with a Rejoicing Spirit!