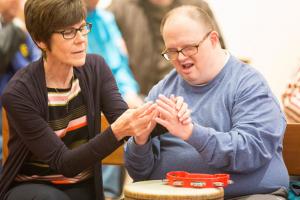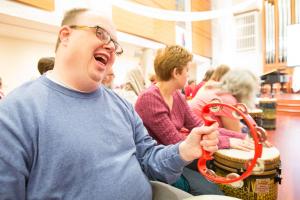 Tuesday, October 23, 2018
How one Denver church is making worship inclusive for people of all abilities
By Kate Fitch and Mim Ochsenbein
Sensory Processing Disorder (SPD) and other related disorders, as we all know, have a significant impact on the normal activities of healthy living. When we think about those activities, what comes to mind? For children, we might think of eating, dressing, personal hygiene, succeeding in the classroom, playing, and making friends. For adults, we can expand that into succeeding in the workplace, having healthy romantic and sexual relationships, managing household tasks, and raising children of their own.
However, religious institutions across the country, including Denver's Bethany Lutheran Church, are pointing out that participation in religious services can also be an important element of healthy living for many people.
Yet most congregations simply don't know how to start when it comes to creating services that are inclusive toward people who are neurodiverse and/or have developmental disabilities.
Over the past year, STAR Institute has collaborated with Bethany Lutheran Church leadership in becoming SPD-aware while developing their inclusive Rejoicing Spirits community.
Rev. Brigette Weier, Pastor of Faith Formation at Bethany, has both family and professional experience serving children with special needs. Her background is in special education and, in previous work, she was dedicated to helping children in the private pre-school system who were not being adequately served by their schools. She carried these experiences with her when she became a pastor and became an advocate for inclusion of people with special needs.
In our conversation with Pastor Brigette, she said that in traditional worship services, people with sensory and related disabilities are often pushed to the margin. They are essentially told how to worship "correctly" and are assigned the role of being served by the church rather than participating in it as an equal member. All people are a gift just the way that they are, she says, "so why would we not want to engage them?"
In her creation of a Rejoicing Spirits worship community, she helped create a space where all people are asked what they want and need in worship, what gifts they have to share, and affirm that they were created by God to be who they are at this very moment.
Two years ago, Bethany created the "All Belong in Christ (ABC)" task force to look into ways that they can help all areas of the church's activities become more inclusive and accessible. The task force's values are to break down all barriers to meaningful worship, to create a community that cherishes diversity, and to create avenues where all people can serve purposefully. In early 2017, the church connected with STAR Institute and asked for formal training on SPD in an effort to ensure that services were inclusive of people with SPD and related conditions. We trained them by April and they launched their Rejoicing Spirits program by June.
Rejoicing Spirits is an inclusive worship model that was first created at a Lutheran church in Pennsylvania in 2003. Their goal was to create a community where people were free to be themselves in a "shush-free" environment while being included as contributing members in their congregation through service projects and other activities.
Bethany Lutheran's adaptation of the model is called "dinner church," where worship, service work, and a community meal are wrapped into one experience. When people enter the worship hall, small projects that tie into the theme of the sermon are already on all the tables. One example of a little project was creating table tent cards to help learn prayers. Afterward, an accessible service project is available to ensure that people with disabilities can participate in both giving and receiving service.
After the project time, dinner is served, followed by chapel space. There is music led by the youth ministry, a story is read out of the children's Bible, and people can participate in an activity that helps reinforce the message of the story. For example, one activity helped with the story of the Road to Emmaus. Participants lined up into four rows and passed a pair of flip flops down the line while playing "Red Light, Green Light." When the red light said "stop," the person who was holding the shoes got to share where they have seen Jesus or God in their own life. After the activity, they have a chance to give an offering to God via a laminated card that read "Today I give to God _________." Participants might write "a smile" or "a laugh," because anything they have to give is precious. At the end, participants can read these offerings as prayers.
Throughout the whole experience, there is an attitude of "go with the flow." No one has to participate in every planned element, and people are free to express discomfort without fear of being shushed. Participants don't need to worry about standing still and singing at the right volume during worship songs, they can participate however they like. No one needs to sit in the same place for over an hour at a time, they are free to move, dance, and shout in whatever way they need.
In the words of Pastor Brigette, "Rejoicing Spirits is all about peoples' spirits and lives being freed from cultural norms." All people, including those with sensory processing challenges, are free to be themselves throughout the entire experience.
The program has been a huge success. The first service in June of 2017 had 50 participants and in quarters since, they have reached up to 90 participants. Because of the program's success, Bethany Lutheran Church began offering them every month starting in September.
Churches in northern Colorado are planning to see the service in the coming months to learn how to incorporate their own inclusive worship service, and Bethany Lutheran is working with two Lutheran camps (Sky Ranch and Rainbow Trail) to help them improve their inclusivity of people with special needs. Finally, ALL of the programs at Bethany Lutheran, not just Rejoicing Spirits, are open to all people of all abilities.
This article was originally published by the STAR Institute for Sensory Processing Disorder.