Wednesday, October 14, 2015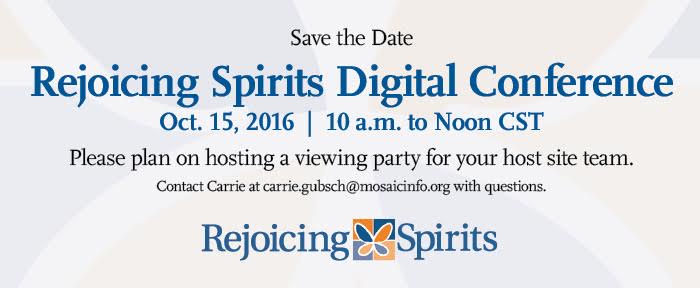 We hope you will join us for our very first Rejoicing Spirits digital ministry conference! Mosaic and Rejoicing Spirits will host an interactive webinar to give all our host site leaders and volunteers the opportunity to come together to share successes, goals and learn more.
We'll hear from a few experts at Mosaic in the field of disability ministry, as well as give you all space to talk together.
The conference will last 2 hours: from 10 a.m. – noon CST on Saturday, Oct. 15, 2016. Please share this invitation with members of your host site leadership team and plan to host a viewing party in your church! More details will be made available in the next few months. Contact Carrie Gubsch at carrie.gubsch@mosaicinfo.org with questions or ideas.