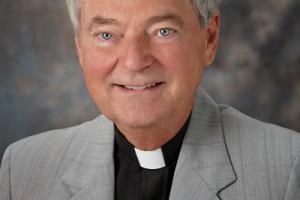 By Pastor Jim Fruehling
Warm greetings, Rejoicers!
This year in many of our congregations, the Gospel lessons for Sundays are taken from Luke. Luke has given us a number of unique stories, including, for example, the parable of the Good Samaritan.
Luke often tells us about Jesus being in prayer; Luke also tells us often about Jesus being invited to dinner. Perhaps one of the more well-known dinner stories takes place at the house of Martha, and her sister, Mary.
Martha, as you may remember, gets busy fixing dinner. Although the text doesn't tell us with certainty, I have always imagined that Jesus showed up with the twelve disciples. Whether she was preparing for one guest or for thirteen, Martha apparently becomes overwhelmed—going in circles, as I like to translate it—or, "cumbered with much serving," as I recall it from the King James translation.
As happens for so many of us even today, when we are working frantically, and others around us appear to be taking it easy—Martha gets irritated, as she watches her sister taking on the role of a disciple, sitting at Jesus' feet, listening to what he was saying.
In her perception that she is doing all the work, Martha asks Jesus pointedly, "Lord, do you not care that my sister has left me to do all the work by myself? Tell her then to help me." Perhaps Martha has been trying for years to tell her sister Mary what to do, to no avail; but Jesus steps away from any triangle.
Perceiving that Martha has become anxious and distracted in all her efforts to serve, Jesus commends Mary, who has chosen "the one thing needful." And with that, Luke concludes the story, leaving Martha's frustration and Mary's devotion for us to contemplate.
For those of us involved in service—by definition, if you're reading this newsletter, that's us—this story can seem like something of a reproach for our efforts. But the choice is not between Mary and Martha; the challenge is to choose both!
Martha has misplaced her focus, and has become troubled and anxious in her effortful service. But, in a wonderful article by Warren Carter, called, "Getting Martha out of the Kitchen," the author observes, "Mary manifests yet another possible danger, that disciples may be so intently centered in the Lord's teaching (10: 39-40) that they do not do or pass on the teaching (cf. 8:21, 11:28)."
As we move together from the slower, longer days of summer into the shorter, busier days of autumn, may your prayers and contemplation center on the one thing needful. And may your active service bring you focus rather than distraction, instead of anxiety—joy!
Blessings to you!