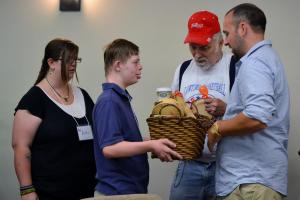 Susan and Michael Bolig sat with their son Ryan, listening and responding to a litany in a Rejoicing Spirits worship service when something remarkable happened.
When the congregation said "I will trust God," Ryan shook his tambourine, participating in the call and response just like everyone else.
Michael turned to Susan, astonished. "I didn't tell him to do that."
Before Rejoicing Spirits started, Ryan wouldn't set foot in a church building. "To try to get him to any other service wasn't possible, but this service works," Susan said. "He goes up front and he shakes the tambourine. He's smiling and he really seems to enjoy it."
It had been 10 years since they had been able to worship together. "It's been really special to be able to do this as a family," Susan said.
Ryan, Susan and Michael, and many others are able to worship, connect, serve and grow with other people of faith, thanks to the work of congregations just like ours, one of 30 Rejoicing Spirits host sites in the United States. Please join us in worship this month.