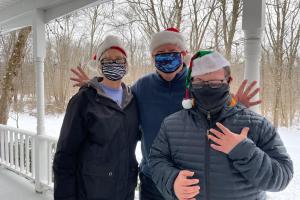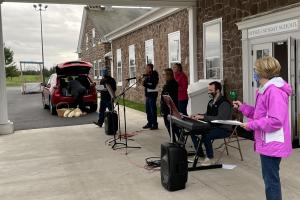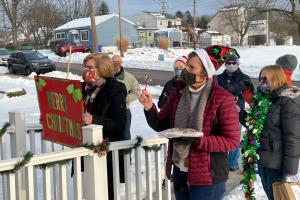 New Hanover Evangelical Lutheran Church in Gilbertsville, Pennsylvania

From its Rejoicing Spirits Leadership Team:
"Rejoicing Spirits continues to lift the hearts of our Rejoicers and also our leaders during this pandemic. We continue to see that God is active in our lives through our Rejoicing Spirits community.
"At first, we kept thinking the pandemic would pass, and we could go right back to worshipping like normal. When it was clear that COVID-19 was not going away soon, we recorded a Rejoicing Spirits worship service and posted it to our YouTube channel.
"By fall, we missed our Rejoicing Spirits friends and decided to plan door-to-door visits for October. We rejoiced together with brief visits in backyards and on front porches. Our time together may have only lasted 15 minutes, but the joy in our hearts remained. During our visits, we learned how much the Rejoicing Spirits community was missing worship.
"Then in November, we held a drive-in Rejoicing Spirits worship service. Before worship, we had our usual fellowship by hand-delivering individual snack bags. The food fed our Rejoicer bodies, and the kind words and love which we shared fed their spirits. We were fed too!
"In December, we again visited our Rejoicers at their homes. A caravan of cars paraded from home to home for four hours to sing Christmas carols. One of our Rejoicing families even joined us on this adventure. To keep the Rejoicers warm in Spirit during the Holidays, we provided 'Rejoicing Spirits' sweatshirts with other goodies, of course. What a blessing to hear shrieks of joy and see the smiling faces of our Rejoicers!
"Finally, we are anticipating the warmer weather and are looking forward to worshipping together again as a community of believers. In April, we began meeting in our parking lot until we can safely re-enter our sanctuary for worship. Thanks be to God!"
First Presbyterian Church in Birmingham, Michigan has a wonderful Rejoicing Spirits newsletter they produce on a monthly basis that includes their upcoming services with a brief explanation and link to join, a calendar of events, a list of their Rejoicing Spirits leadership team, a link to Mosaic's Rejoicing Spirits page, and a link to describe the Rejoicing Spirits service. What a wonderful way to keep the attendees updated! They have been meeting virtually and enjoying great attendance:

A new Rejoicing Spirits host, Troy Christian Church in Ohio, shares this update as they prepare for launch:
"Here at Troy Christian Church, we are excited to launch Rejoicing Spirits in August. After holding 'Night to Shine' events at our church in the past, we very much wanted to expand our outreach to include meeting the spiritual needs of our guests. Rejoicing Spirits has provided us with an excellent framework and resources to draw from in creating this new worship service in our church community. We eagerly anticipate seeing the doors God will open, as we place our plans in His hands and open our hearts to His desire to embrace all people in our community."
Trinity Lutheran Church in Mason City, Iowa shared this creative example on their website of reaching out during the pandemic: