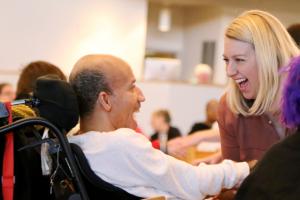 Monday, February 17, 2020
Redeemer Lutheran Church | Salina, Kansas
Our first Rejoicing Spirits service was incredible! We had 60 people attend. The rejoicers helped with the greeting in the parking lot, served as ushers, collected the offering (cards to God), played a special song on the saxophone, sang and used shaker instruments, and said the table prayer. After a taco lunch, a variety of games were played. The day before the service we were interviewed by the Salina Journal and it made the front page! God truly blessed and guided us on this journey.
Alpine Lutheran Church | Rockford, Illinois
Rockford has a very robust Rejoicing Spirits program. We have worked hard to promote this year's Christmas Service, which received wonderful media coverage by two television stations and the local newspaper. A huge thank you to each and every one that helped make the Rejoicing Spirits Christmas service possible. I truly hope you took in all the smiles and excitement of those we support and shared in their Christmas joy.
Grace Lutheran | Hockessin, Delaware
Rejoicing Spirits Christmas Service at Grace Lutheran Church in Hockessin, Delaware was an absolutely wonderful way to enter into Christmas! We made a joyful noise, prayed for one another and celebrated Christmas with this special family.
St. Timothy's Lutheran | Omaha, Nebraska
When passing the offering plate, the folks in service would look at me, look at the plate, and give with their whole heart. Some were unaware if they were giving $1 or $100 but what they did know is that they were giving honestly and genuinely. They were proud to give. Do we give genuinely and gratefully when we are passed the offering plate? Everyone should have the opportunity to serve as an usher and experience the true art of giving. —Gordy Johnson, Rejoicing spirits volunteer