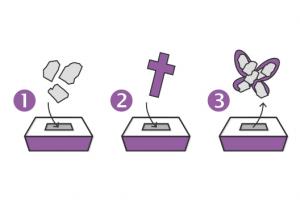 Friday, February 4, 2022 - 11:00
With our Rejoicing Spirits style of worship, we are invariably seeking ways to encourage participation in liturgy with language of physical expression along with words. For this Lent and Easter (March and April in 2022), I can offer an opportunity for a worship experience that allows for lament and joy to be shared in a visible and meaningful expression.
STAGE ONE
Tearing paper is a favorite activity of some of my congregation, which we incorporated into our Lenten liturgy. We decorate a large box in wrapping paper, or construction paper, and designate it our "confession" box. Individuals are invited to share in a "Confession of the 'Ows' in life"; each would have an opportunity to rip a piece of paper and place it in the box, with some lament, such as "ow" or "Lord, have mercy." If desired, words or marks could be added on the piece of paper, using a marker. We assist many who are not able to participate alone, but still give each person a moment to "place their ow" into the Confession Box.
Explain that Lent is about God taking the "ow" of life: things we have done wrong, hurts we have endured, or feelings related to brokenness in the world. The lessons for Lent offer a variety of alternatives for expressing the "ow", whether personal or corporate. Our worship invites all forms of expression for mercy; putting the torn paper into the confession box.
STAGE TWO
Jesus especially shares our "ow," our need for mercy. While explaining that Jesus went to the cross, use the passion story to connect with Jesus' "ow." Hear the litany of "ow" moments in the account: betrayal, aloneness, injustice, physical pain, crucifixion, even feeling separated from God.
At the conclusion, place a cross into the confession box and seal the box (compare it to the closing of the tomb). All of this is done with an explanation that Jesus "takes our ows."
Hebrews 4:14-16 could be a particularly appropriate reading:
"Therefore, since we have a great high priest who has ascended into heaven, Jesus the Son of God, let us hold firmly to the faith we profess. For we do not have a high priest who is unable to empathize with our weaknesses, but we have one who has been tempted in every way, just as we are—yet he did not sin. Let us then approach God's throne of grace with confidence, so that we may receive mercy and find grace to help us in our time of need." Hebrews 4:14-16
STAGE THREE
This stage requires more preparation. The Lenten activity, resulting in lots of torn up paper, is made into a giant mosaic, with "WOW" as the message and restored to the confession box. I found that confirmation and older youth enjoyed assisting, secretly using the torn paper to cover a giant butterfly; they also glued 'WOW' visibly on one wing. The form is then placed back in the box, along with the cross.
During the Easter worship, (holding the confession box) explain that the women who had come to the tomb had tears in their eyes; they still felt the "ow" of Jesus' death. Review with everyone how their "ows" were sealed with Jesus during Lent. Then, continue to explain that the women found the tomb opened (have someone the confession box, with amazement, finding the cross and revealing the butterfly mosaic). God has finished the death of Jesus and changed it into his resurrection! The Lord turned "ow" to "wow."