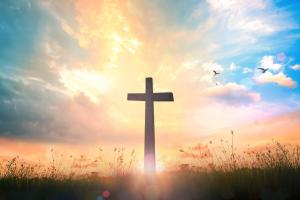 From Pastor John Gosswein
It was 20 years ago, the week of 9/11, that I was invited to lead a regular worship with the individuals I serve – persons challenged with a combined variety of physical and intellectual disabilities. The staff that accompanied the individuals felt we should ignore the news of the terrorist attacks: "The individuals needed to be shielded from these horrors. They wouldn't understand, so we're better to not bring it up." One of them said, "We're just turning off the news when anything comes up."
Yet, it became an opportunity for me to see how rich our "Rejoicing Spirits" style of worship can be. Being forced to seek methods of speaking beyond words, I think we stumble into the Romans 8 language of the Spirit. Remember, when Paul lacked vocabulary for his prayers, the Spirit provided "groans" and "sigh" language.
We adapted Psalm 46 for a litany response, using a call and response, but the congregational refrain would just be: "SHHHH!" (Put fingers to lips … even say it to each other).
****
REFRAIN: The Lord God is our safe place, our home.
He will protect us in time of fear and turmoil!
When trouble comes, God says, "SHHH!"
1. The earth can shudder, storms may build
The sea can send mighty waves
Mountains roar in strength!
BUT … (refrain)
2. God sends a river of peace through his holy city
God lives here, the streets are safe, all day and night
Kings and nations make war. People try to conquer each other!
[We inserted here mention of the devastation of 9/11]
But God speaks, and mountains melt! AND WE TAKE COMFORT …(refrain)
3. Attention, everyone! God does marvelous things
God tells wars to STOP! He breaks weapons across his knee!
And when life gets crazy, and we get afraid,
When trouble comes to us, God says, "SHHHHHHHH."
Be still and know this: I am God, Lord of heaven and earth.
Ahhh! FOR … (refrain) Amen!
****
When our chapel service began (again, just two days following the terrorist attacks), it was obvious there was restlessness and anxiety; it was present in everyone. After singing several songs (choruses allowing for lament, sorrow, and prayer), we shared in Psalm 46. As we prayed it together, it became evident this was a word we needed; the "shhh" breathed a spiritual sigh of peace in the midst of chaotic times. We frequently use this prayer of Psalm 46 as a prayer of trust adapted for whatever situations.
What did I learn? First, to realize that our worship doesn't need to hide from the brutal realities of life, but that God has provided opportunities for all of us to express our fear, joy, anxiety, sadness and gratitude. And, that implies that we are facilitators of that worship, seeking to encourage a language of expression that basically echoes the creative Spirit endowed by the Body of Christ.
Pastor John Gosswein and his wife Judy have been involved with Mosaic in Axtell, Nebraska for more than 30 years, first as parents of their son Jim, who was supported by Mosaic, then in 1999, taking on ministry with Mosaic in Axtell in conjunction with their parish in Kearney, Nebraska.