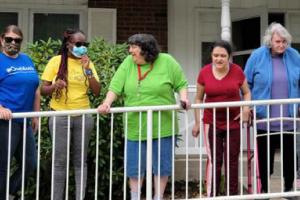 Friday, February 4, 2022 - 12:00
Grace Lutheran Church in Hockessin, Delaware celebrated their 10th Anniversary of Rejoicing Spirits service on Saturday, September 18. The first Rejoicing Spirits service at the church was on September 10, 2011.
They also celebrated/honored the Mosaic Direct Support Professionals for their commitment and dedicated service of care for the Mosaic individuals in group homes throughout Delaware. These DSPs take the time to set up computers and have the Zoom link ready for the individuals to join the Rejoicing Spirits monthly service, allowing us all to stay connected with each other to joyfully worship and hear God's word throughout the pandemic.
On September 13, Grace volunteers packed Rejoicing Spirits boxes with musical instruments, crafts to make and butterfly coloring pages for the 29 homes. Also the Grace cookie bakers provided more than 56 dozen homemade cookies that were packed into 29 cookie boxes and delivered to each home for the Direct Support Professionals to enjoy. The delivery also included a pop-up butterfly card expressing thanks for all that they do to be part of the Rejoicing Spirits community.
At the virtual September 18 service, special guests shared in the milestone anniversary, including Pastor David deFreese from Mosaic and Bishop Bill Gohl (Delaware-Maryland Synod), who both sent celebratory video messages. The newest Grace Rejoicing Spirits member, Joy, the butterfly puppet, made a debut appearance via video and expressed her excitement for Rejoicing Spirits' commitment to the community for the last 10 years. It was a joyous celebration with lots of singing and fellowship via zoom.