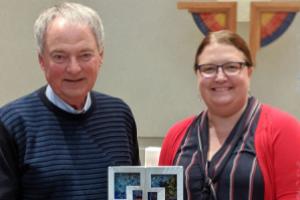 Monday, February 17, 2020
It is bittersweet to acknowledge that our partner, Rev. Dr. Jim Fruehling is stepping away from full-time service to Mosaic and Rejoicing Spirits. He has been instrumental in the work of Rejoicing Spirits since Mosaic took on the responsibility from Susan Crawford and St. Paul Lutheran Church in Exon, Pennsylvania.
While it is not fitting to use the word "retirement" for Jim, as he will still be helping in various ways with our work, he will not be continuing in the same capacity as in the past. We will continue teaching the course on ministry with and among people living with disabilities at Wartburg Seminary and the Lutheran School of Theology in Chicago. Of course, we will also continue to seek his treasured wisdom in our future thinking and plans.
Thank you, Jim, for the past service and the future help. We are most grateful.
Visit tinyurl.com/Jim-Fruehling to read more about Rev. Dr. Jim Fruehling's career at Mosaic.