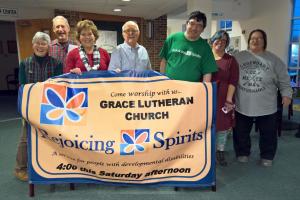 Our Rejoicing Spirits team at Grace Lutheran Church in Hockessin, Delaware has been together for about six years, and during that time we've seen positive changes in the people who come to worship with us. Most of our guests are residents of Mosaic homes, but there are a few who live at home with their families. Everyone is welcome, and I do want to emphasize "everyone."
At the beginning of the service we offer our guests maracas so they can shake them when music is playing or anytime. During the service, we have lots of music which is provided by a praise team. We celebrate birthdays and sing the birthday song. Sometimes there is a puppet show to go with the day's lesson and everyone enjoys.
When we first started, we only had a few people and maybe one or two homes that would join us. Many times, our visitors would leave early because some of them would become agitated or feel uncomfortable in a new place. Now people come because they really want to be here, they have become familiar with our church, the Rejoicing Spirits team and each other. There is a sense of belonging.
Some even participate in the worship service itself. Taquan, who has been coming to Rejoicing Spirits for several years, now comes right in, shakes our hands and asks, "How ya'doin'?" After he's made the rounds of shaking our hands, he goes right into the sanctuary and joins the praise team because he likes to be where the action is.
Will, who comes with Taquan, used to be so quiet that you wouldn't even know he was there. After several years of coming with Taquan, he has begun to shake hands while saying, "Hello." But most of all, he smiles and it makes us all happy to see him coming out of his shell. Once I even got a hug from Will. That was a big day for me!
Robert has been coming from the beginning and has always enjoyed it. He likes to get a maraca and shake it during the service. At the end of the service, Robert is not always ready to leave with the others in his group as he enjoys the treats that we always have and the fellowship with others.
Chris is another shy person who enjoys coming, but didn't participate much. Now he gets a maraca and sings and enjoys the service to the very end. These are just some of our regular participants and we miss them when they are not there.
I would like to mention the great work that the caregivers do, whether they are parents, relatives or Mosaic staff. These people care a lot about their responsibility to others. They are dedicated people, and they make sure that their residents or relatives have what they need at the service.
We at Grace also try to make accommodations for our guests' wheelchairs, walkers or whatever aids they may have to help them get around. It's a humbling experience to be part of the Rejoicing Spirits team at Grace. The volunteers who work on putting the service together are dedicated individuals and are happy to serve a population that can be overlooked at times. It is truly our pleasure to be a small part of their lives.
Penny Matchen
Grace Lutheran Church
Hockessin, Delaware