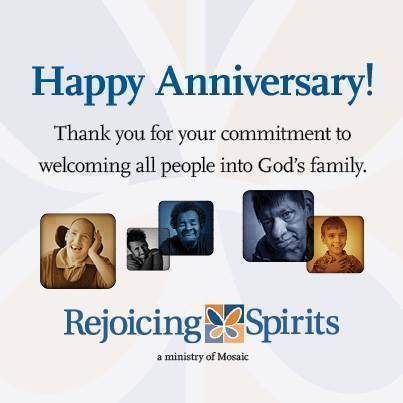 Last month seven of our Rejoicing Spirits host sites celebrated the anniversary of their first service! Here's a few tips about how you can make your Rejoicing Spirits worship anniversary a lively celebration.
Some Tips
Send a celebratory invite to worshippers the month before your anniversary. Be sure to include people who haven't come in a while or who you would like to invite for the first time. Celebrating an anniversary can be a great way to invite new people to experience your Rejoicing Spirits worship or to re-invite people who have stopped coming.

Include a special notice in your church bulletin and local newspaper. Ask regular volunteers or a person with an intellectual disability to share why Rejoicing Spirits is meaningful to them as a part of the notice.

Ask the executive director of a local service provider if they would like to come as a special guest. This is a great way to introduce them to your ministry if you haven't been able to connect in the past.

Plan worship as an even bigger celebration than you usually do! Ask members of your congregation or regular worshipers with intellectual disabilities who like to sing to provide special music during worship. Ask your children's choir or Sunday School to provide special music as well.

Include a slideshow of photos before worship that showcase the history of your Rejoicing Spirits worship.

Plan a potluck meal or barbecue after the worship.

Include time to recognize volunteers and direct care workers who make sure people with disabilities are able to attend worship. This can be done during worship or as a part of a short program during your potluck meal or barbeque. • If there is money available, include a small giveaway to help people remember the day.

Create a Facebook event using your church's account and invite people to come to worship using it.

Send thank you notes to worshippers with intellectual disabilities who attended your anniversary celebration, especially if this was their first visit. This is a nice way to let them know that you appreciated having them there and would like to see them again.




Do you have any tips for celebrating a Rejoicing Spirits anniversary? Send them to carrie.gubsch@mosaicinfo.org and we will publish them in the next issue!